InChI Session at Chicago ACS 21 Aug 2022
The InChI Trust is scheduling InChI Working Group Meetings in Chicago on Aug 19-20, 2022.
The InChI Trust has organized a full day session at the ACS national meeting in Chicago Aug 21-25. Our session will be held on Sunday Aug 21, 2022 at the Henry Clarke – Marriott Marquis Chicago.
InChI in the Wild: Celebrating Over 20 years of InChI Development in Memory of InChI Developer Igor Pletnev
---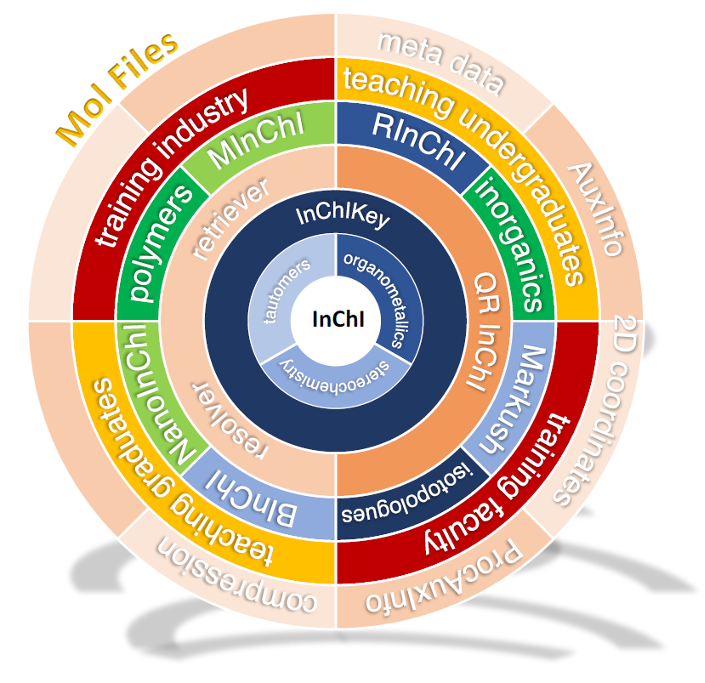 Welcome to InChI
The International Chemical Identifier, or InChI, is a character string generated by computer algorithm, originally developed by the International Union of Pure and Applied Chemistry (IUPAC). IUPAC Division VIII established the InChI Subcommittee to develop the scientific rules for representing defined chemical structures. For specific areas of chemical structures (tautomers, inorganics, etc.), the Subcommittee has established a number of Working Groups. Most of the conceptual design and direction is decided by the IUPAC Working Groups which are made up of experts in the associated fields. The Working Groups are extending the standard for areas of chemistry that are not yet handled by InChI. More information on each of the Working Groups is available here.
The IUPAC InChI algorithm and formatting standard are used for describing and storing chemical structures. The InChI algorithm turns chemical structures into unique machine and non-human readable strings of information. The associated InChI software components are non-proprietary and open source.
July 1, 2022: Research Assistant/Associate - Software Development Position Open
Professor Dr. Sonja Herres-Pawlis, Institute of Inorganic Chemistry at RWTH Aachen University, has announced an open Reseach Assisstant position. The work will include further development of the IUPAC International Chemical Identifier (InChI), documentation of the programming developments and testing of extensions. The research group investigates topics in bioinorganic chemistry, sustainable polymerization catalysis, coordination chemistry and catalytic applications.

More details on the position or to apply, Click HERE.
June 16, 2022: The InChI Trust Session at the Fall 2022 ACS Meeting in Chicago
The InChI Trust has set up an all day session at the August 2022 ACS Meeting in Chicago. The session will cover the InChI standard as well as many extensions to the standard that are under development. The details of the session can be found on this webpage.
June 9, 2022: InChI Technical Sessions in Cambridge UK June 17-19
Technical sessions are being held in personal and virtually on June 17-19 for several if the extension projects for the InChI Standard. The topics to be covered include: organometallics and to make progress toward adding extended stereochemistry and tautomers.

See the full agenda at: https://www.inchi-trust.org/june-2022-technical-sessions/.
InChI OUTREACH
InChI OUTREACH will be published on a regular basis every 2 to 3 months. We will include the latest news, topics of interest, discussions on various aspects of InChI. Click on the image below of the first issue to view and download it.
CLICK HERE to subscribe to future issues of InChI OUTREACH.
Where are InChI and InChI Key Used?
InChI is used by most of the large chemical databases and software applications handling many millions of chemical structures.
InChI enables the linking and interlinking of chemistry and chemical structures on the web and computer platforms. By enhancing the discoverability of chemical structures, InChI advances the 'FAIR Guiding Principles for scientific data management and stewardship'. FAIR was published in 2016 to provide guidelines to improve the Findability, Accessibility, Interoperability, and Reuse of digital assets. InChI provides 'Findability' for chemical structures and extends Interoperability between platforms, both of which foster Accessibility and Reuse!
Development continues by a broad community of scientists and developers, much of which is contributed by our sponsors and supporters. Contact any of us at the InChI Trust for more information or with any questions.
The InChI Trust is a UK charity that works to implement the rules developed and approved by IUPAC through the Working Groups. The Trust also promotes the use of the IUPAC InChI algorithm. InChI with its associated InChIKey was developed as a non-proprietary international standard and has just celebrated its sixteenth anniversary. The Trust aims to develop and improve on the current InChI standard, further expanding its use with extended chemical and computational capabilities.
About us: WHO ARE WE ?
The diverse group of scientists and developers that contribute to the InChI projects come from industry, academia and government. They participate in one or more of the following groups:
---
August 21, 2022 – August 25, 2022
ACS Fall Chicago
In Person
We have a full session scheduled in CINF, in memory of Igor Pletnev. We have a few speaking slots open and we are accepting abstracts. The submission deadline is March 14, 2022. Contact Rudy.
---
August 30, 2022 – September 2, 2022
ICCSE2, Rimini Riviera, Italy
In Person
ICCSE2 - 2nd International Conference on Computations for Science and Engineering - aims to bring together the latest research on Methods and Applications including: high performance computing and techniques to gain efficiency, modeling and simulation, analysis and visualization of data, Data Science for developing methods and algorithms to handle and extract knowledge from large scientific applications. Biology and Medicine: protein folding, bioinformatics, genomics, computational neurological modeling, modeling of biological systems, 3D CT ultrasound, MRI imaging, molecular bio-networks, cancer and seizure control; Chemistry: calculating the structures and properties of chemicals, computational chemistry/cheminformatics, molecular mechanics simulations, computational chemical methods in solid state physics.
---
October 18, 2022 – October 19, 2022
BioIT World Europe, Berlin
In Person
Join Distinguished Members of the Bio-IT Community in Berlin, Germany this October to Explore the Intersection of IT and Life Sciences . There will be 5 In-Depth Bio-IT Focused Conference Tracks: R&D in Pharma; AI for Pharma; Storage Infrastructure & Cloud Computing; Data Management; Bioinformatics. Bio-IT World has united a community of leading life sciences, pharmaceutical, clinical, healthcare, informatics, and technology experts in the fields of biomedical research, drug discovery & development, and healthcare from around the world. Join your colleagues for updates from inspiring keynotes, more than 60 presentations across five tracks, and 2 days of interactive discussion and networking.
---
---
InChI Development Papers – most recent (See Full List)
SELFIES and the future of molecular string representations
Mario Krenn , Qianxiang Ai , Senja Barthel , Nessa Carson , Angelo Frei , Nathan C. Frey , Pascal Friederich , Theophile Gaudin , Alberto Alexander Gayle , Kevin Maik Jablonka , Rafael F. Lameiro , Dominik Lemm , Alston Lo Seyed Mohamad Moosavi , Jos ́e Manuel Napoles-Duarte , AkshatKumar Nigam, Robert Pollice , Kohulan Rajan , Ulrich Schatzschneider , Philippe Schwaller Marta Skreta , Berend Smit , Felix Strieth-Kalthoff , Chong Sun , Gary Tom , Guido Falk von Rudorff , Andrew Wang , Andrew White Adamo Young , Rose Yu , and Alan Aspuru-Guzik
physics.chem-ph 31 Mar 2022.
DOI:
https://arxiv.org/pdf/2204.00056.pdf
AI/ML Papers Citing InChI – most recent (See Full List)
Bayesian multi-model-based 13C15N-metabolic flux analysis quantifies carbon-nitrogen metabolism in mycobacteria
Khushboo Borah, Martin Bey, Ye Xu, Jim Barber, Catia Costa, Jane Newcombe, Khushboo Borah, Martin Bey, Ye Xu, Jim Barber, Catia Costa, Jane Newcombe, Axel Theorell, Melanie J Bailey, Dany JV Beste, Johnjoe McFadden, Katharina Nöh
bioRxiv preprint 2022.
DOI:
https://doi.org/10.1101/2022.03.08.483448