InChI Technical Sessions
June 17-19 2022
The focus of these sessions will be organometallics, extended stereochemistry and tautomers. The sessions will be held in person in Cambridge UK and also available for virtual access.
Open InChI Days 2022
Held virtually on April 5-6, 2022
---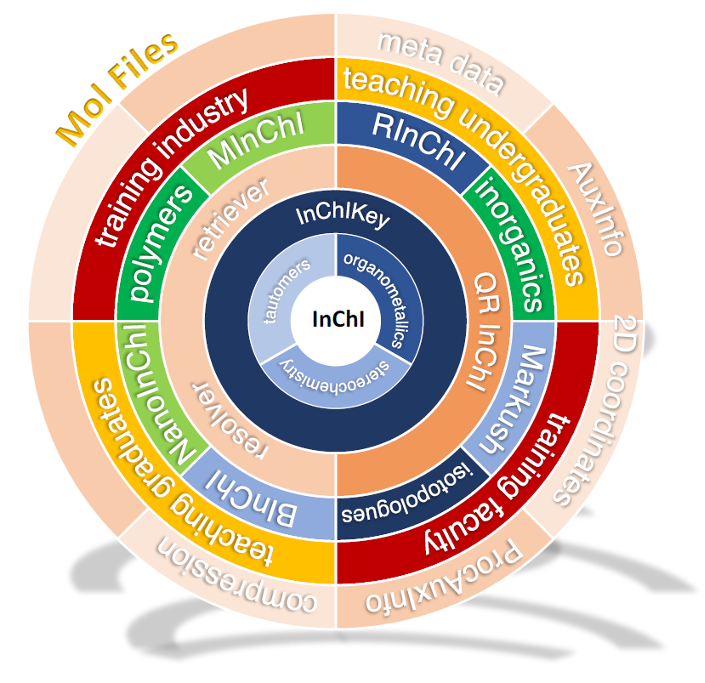 Welcome to InChI
The International Chemical Identifier, or InChI, is a character string generated by computer algorithm, originally developed by the International Union of Pure and Applied Chemistry (IUPAC). IUPAC Division VIII established the InChI Subcommittee to develop the scientific rules for representing defined chemical structures. For specific areas of chemical structures (tautomers, inorganics, etc.), the Subcommittee has established a number of Working Groups. Most of the conceptual design and direction is decided by the IUPAC Working Groups which are made up of experts in the associated fields. The Working Groups are extending the standard for areas of chemistry that are not yet handled by InChI. More information on each of the Working Groups is available here.
The IUPAC InChI algorithm and formatting standard are used for describing and storing chemical structures. The InChI algorithm turns chemical structures into unique machine and non-human readable strings of information. The associated InChI software components are non-proprietary and open source.
April 25, 2022: SciFinder Adds InChI Key to Substance Searching
SciFinder Search Substances Expanded to Include Searching With InChI Key

Chemicl Abstracts Service announced that they have added an Advanced Search Field to search substances by InChI Key to SciFinder. InChI Key was added to a new Chemical Identifier subsection along with Chemical Name. Multiple entries must be delimited by a comma, space, or semicolon.
April 7, 2022: InChI Days 2022 Symposium
Our InChI Days 2022 virtual symposium brought together much of the InChI development community to discuss directions and future evolution of the InChI Standard. While the InChI Standard is quite stable and used across much of the organic chemistry space, our symposium covered a wide and diverse suite of extensions being studied by working groups of experts in each area. Topics covered by these teams at our meeting included extended stereochemistry, extended tautomers, polymers, Markush/variable structures, mixtures, reactions, nanomamaterials, isotopologues and the use of QR codes. We have the slide decks from the sessions available on our website (https://www.inchi-trust.org/wp/decks-open-inchi-days-2022/). If you are interested in InChI or any of these extensions, sign up for our newsletter InChI OUTREACH: SUBSCRIBE to InChI OUTREACH.
March 24, 2022: Menu Items Under RESOURCES Expanded
Check out the items under the RESOURCES menu item from the upper right menu bar. We have expanded these to include:
• OER - Open Educational Resources for InChI - devoted to the use of InChI with many tools and resources
• Full Bibliography of articles about, referencing or use InChI
• Selected articles focused on an Overview of InChI
• Selected articles focused on Drug Discovery that include use of or reference to InChI
• AI or Machine Learning papers that reference InChI
• More general 'science' papers that reference InChI
InChI OUTREACH
InChI OUTREACH will be published on a regular basis every 2 to 3 months. We will include the latest news, topics of interest, discussions on various aspects of InChI. Click on the image below of the first issue to view and download it.
CLICK HERE to subscribe to future issues of InChI OUTREACH.
Where are InChI and InChI Key Used?
InChI is used by most of the large chemical databases and software applications handling many millions of chemical structures.
InChI enables the linking and interlinking of chemistry and chemical structures on the web and computer platforms. By enhancing the discoverability of chemical structures, InChI advances the 'FAIR Guiding Principles for scientific data management and stewardship'. FAIR was published in 2016 to provide guidelines to improve the Findability, Accessibility, Interoperability, and Reuse of digital assets. InChI provides 'Findability' for chemical structures and extends Interoperability between platforms, both of which foster Accessibility and Reuse!
Development continues by a broad community of scientists and developers, much of which is contributed by our sponsors and supporters. Contact any of us at the InChI Trust for more information or with any questions.
The InChI Trust is a UK charity that works to implement the rules developed and approved by IUPAC through the Working Groups. The Trust also promotes the use of the IUPAC InChI algorithm. InChI with its associated InChIKey was developed as a non-proprietary international standard and has just celebrated its sixteenth anniversary. The Trust aims to develop and improve on the current InChI standard, further expanding its use with extended chemical and computational capabilities.
About us: WHO ARE WE ?
The diverse group of scientists and developers that contribute to the InChI projects come from industry, academia and government. They participate in one or more of the following groups:
---
June 12, 2022 – June 16, 2022
12th International Conference on Chemical Structures (ICCS)
In Person
ICCS continues a well-established conference series begun in 1973 as a workshop on Computer Representation and Manipulation of Chemical Information. The 2022 conference will build on the past conferences to offer a strong scientific program which covers all aspects of cheminformatics and molecular modeling, including structure-activity relationships, virtual screening, modeling metabolite networks, etc. at the beautiful Conference Center in Noordwijkerhout, The Netherlands.
---
June 17, 2022 – June 19, 2022
InChI Working Groups - June Technical Sessions
Hybrid
The InChI Standard Subcommittee will hold technical sessions of the Working Groups on June 17-19, 2022 in Cambridge, UK. Gerd Blanke and Jonathan Goodman are working with the Leads of the Working Groups to finalize the details of the sessions. We are anticipating many of the participants will attend the meeting in person although we will also have Zoom access available for virtual attendance.
---
June 20, 2022 – June 23, 2022
SciDataCon 2022 Seoul
Hybrid
SciDataCon has peer-reviewed research and practice presentations covering all aspects of data in research, society and policy. SciDataCon shares high-level themes with International Data Week as well as data science and data stewardship, Open Science, and FAIR data and services.
---
---
AI/ML Papers Citing InChI – most recent (See Full List)
Bayesian multi-model-based 13C15N-metabolic flux analysis quantifies carbon-nitrogen metabolism in mycobacteria
Khushboo Borah, Martin Bey, Ye Xu, Jim Barber, Catia Costa, Jane Newcombe, Axel Theorell, Melanie J Bailey, Dany JV Beste, Johnjoe McFadden,* Katharina Nöh
bioRxiv preprint
DOI:
https://doi.org/10.1101/2022.03.08.483448
Molecular Design Learned from the Natural Product Porphyra-334: Molecular Generation via Chemical Variational Autoencoder versus Database Mining via Similarity Search, A Comparative Study
Yuki Harada, Makoto Hatakeyama, Shuichi Maeda, Qi Gao, Kenichi Koizumi, Yuki Sakamoto, Yuuki Ono, and Shinichiro Nakamura
ACS Omega 2022, 7, 10, 8581–8590
DOI:
https://doi.org/10.1021/acsomega.1c06453