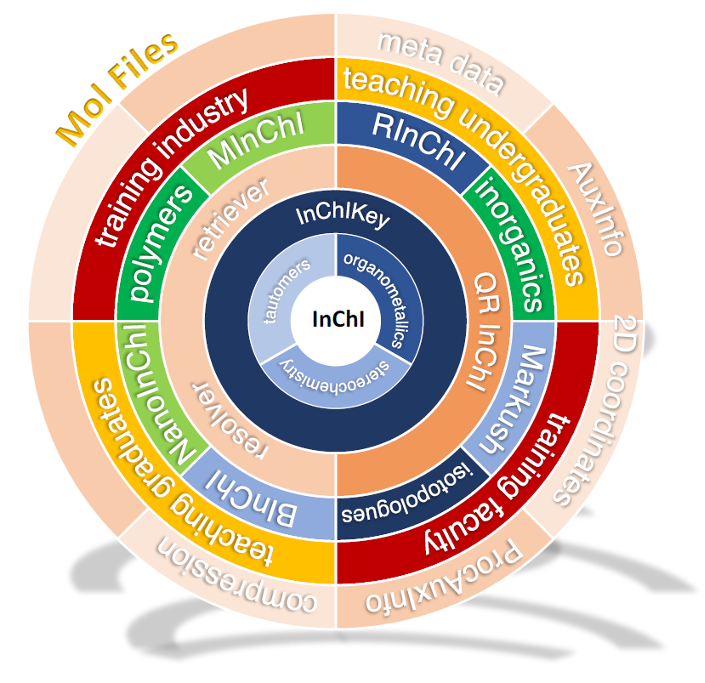 Welcome to the InChI Trust Website
The International Chemical Identifier, or InChI, is an algorithm and formatting standard for describing and storing chemical structures. InChI enables the linking and interlinking of chemistry and chemical structures on the web and computer platforms. By enhancing the discoverability of chemical structures, InChI advances the 'FAIR Guiding Principles for scientific data management and stewardship'. FAIR was published in 2016 to provide guidelines to improve the Findability, Accessibility, Interoperability, and Reuse of digital assets. InChI provides 'Findability' for chemical structures.
The associated InChI software components are non-proprietary and open source. Development continues by a broad community of scientists and developers, much of which is contributed by our sponsors and supporters. Contact any of us at the InChI Trust for more information or with any questions.
November 15, 2021: First Issue of InChI OUTREACH Released
InChI OUTREACH will be published on a regular basis every 2 to 3 months. We will include the latest news, topics of interest, discussions on various aspects of InChI. The first issue and a link to subscribe to future issues are available here:
November 10, 2021: We sadly note the passing of Igor Pletnev
Igor Pletnev was the developer and caretaker of the InChI software algorithm for over 15 years, first at NIST and then at the InChI Trust. Over the years Igor made great contributions to the InChI project. His knowledge of both chemistry and computer programming made him a unique person to carry out all these tasks while interacting with chemists around the world on an almost daily basis. While there were many demands on his work efforts with the InChI algorithm, Igor always was calm and friendly to all, a true professional at all times. He will be missed and dearly remembered for all of his outstanding work by all of us at InChI Trust and the global community of InChI developers and users.
September 1, 2021: New Team Members Added
The InChI Trust added two new positions to help advance the extension of the InChI code as well as its awareness and use across the community.

Gerd Blanke (gerd@inchi-trust.org) is the Technical Director for the Trust. He is working closely with the working groups to help move the various activities to delivery in next versions of the code. Gerd has held senior positions in information technology and services across the research area of life science and chemical industry. His business development skills span chemical and bio informatics, databases, data analytics, business Intelligence, project management, and management. (https://www.linkedin.com/in/gerd-blanke-b13115).

Rudy Potenzone (rudy@inchi-trust.org) is the Director of Outreach and Marketing, including extensions to the website, a newsletter (InChI OUTREACH), and a program to reach out to potential new sponsors, developers and users. Rudy is an accomplished executive with a proven track record of developing products for life science informatics, knowledge management, workflow systems and electronic lab notebooks. (https://www.linkedin.com/in/rudypoten).
InChI OUTREACH
InChI OUTREACH will be published on a regular basis every 2 to 3 months. We will include the latest news, topics of interest, discussions on various aspects of InChI. The first issue and a link to subscribe to future issues are available here: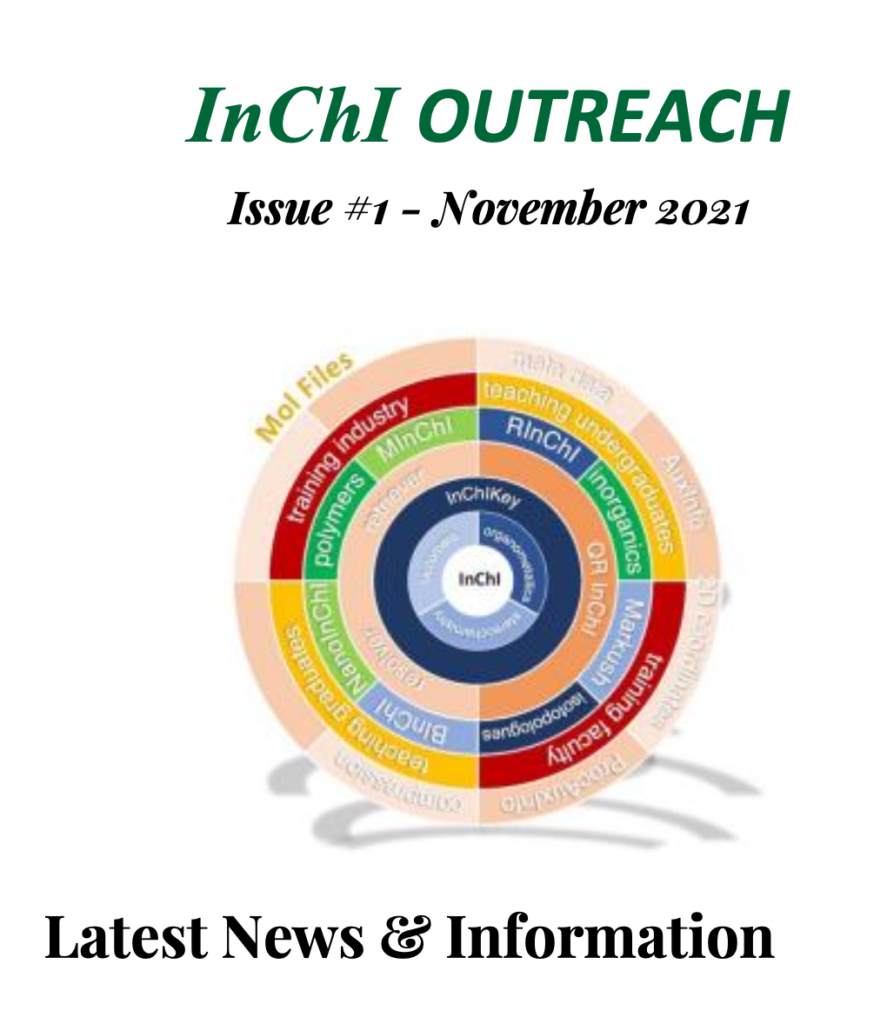 What is InChI and InChI Key?
The International Chemical Identifier (InChI) is a character string generated by computer algorithm, originally developed by the International Union of Pure and Applied Chemistry (IUPAC).
InChI is used by most of the large chemical databases and software applications handling many millions of chemical structures. The InChI algorithm turns chemical structures into unique machine and non-human readable strings of information.

IUPAC Division VIII established the InChI subcommittee to develop the scientific rules for representing defined chemical structures. For specific areas of chemical structures (tautomers, inorganics, etc.), the subcommittee has established a number of Working Groups. Most of the conceptual design and direction is decided by the IUPAC Working Groups which are made up of experts in the associated fields. The Working Groups are extending the standard for areas of chemistry that are not yet handled by InChI. More information on each of the Working Groups is available here.
The InChI Trust is a UK charity that works to implement the rules developed and approved by IUPAC through the Working Groups. The Trust also promotes the use of the IUPAC InChI algorithm. InChI with its associated InChIKey was developed as a non-proprietary international standard and has just celebrated its sixteenth anniversary. The Trust aims to develop and improve on the current InChI standard, further expanding its use with extended chemical and computational capabilities.
About us
WHO ARE WE ?
The diverse group of scientists and developers that contribute to the InChI projects come from industry, academia and government. They participate in one or more of the following groups:
InChI Development Papers – most recent 3 (See Full List)
Toward a Comprehensive Treatment of Tautomerism in Chemoinformatics Including in InChI V2.
Dhaked, Devendra K.; Ihlenfeldt, Wolf-Dietrich; Patel, Hitesh; Delannée, Victorien; Nicklaus, Marc C.
J Chem Inf Model 60 1253-1275 (2020).
DOI:

Capturing mixture composition: an open machine-readable format for representing mixed substances.
Clark, Alex M.; McEwen, Leah R.; Gedeck, Peter; Bunin, Barry A.
J Cheminform 11 33 (2019).
DOI:
https://www.doi.org/10.1186/s13321-019-0357-4
Scientific & AI/ML Papers Citing InChI – most recent 3 (See Full List)
Computational methods on food contact chemicals: Big data and in silico screening on nuclear receptors family
Pietro Cozzini; Francesca Cavaliere; Giulia Spaggiari; Gianluca Morelli; Marco Riani
Chemosphere 292 (2022) 133422.
DOI:
https://doi.org/10.1016/j.chemosphere.2021.133422
Dynamic Buffer Management in Massively Parallel Systems: A Case on GPUs
Minh Pham; Hao Li; Yongke Yuan; Chengcheng Mou; Kandethody Ramachandran; Zichen Xu; Yicheng Tu

DOI:

HyFactor: Hydrogen-count labelled graph-based defactorization Autoencoder
Tagir Akhmetshin; Arkadii Lin; Daniyar Mazitov; Evgenii Ziaikin; Timur Madzhidov; Alexandre Varnek

DOI:

Drug Discovery Papers Citing InChI – most recent 3 (See Full List)
Data Centric Molecular Analysis and Evaluation of Hepatocellular Carcinoma Therapeutics Using Machine Intelligence-Based Tools
Rengul Cetin-Atalay; Deniz Cansen Kahraman; Esra Nalbat; Ahmet Sureyya Rifaioglu; Ahmet Atakan; Ataberk Donmez; Heval Atas; M. Volkan Atalay; Aybar C. Acar; Tunca Doğan
J Gastrointestinal Cancer (2021)
DOI:

A computer-aided drug design approach to discover tumour suppressor p53 protein activators for colorectal cancer therapy
Rui P.S. Patrício, Paula A. Videirab, Florbela Pereira
Bioorganic & Medicinal Chemistry 53, 116530 (2022).
DOI:
https://doi.org/10.1016/j.bmc.2021.116530